Feeling confident, and comfortable, during a fitness session can all be impacted by how your body feels. In this article by Women's Health magazine they share the best running sports bras from this year, to provide you with all the support you need.
Best workout sports bras in 2023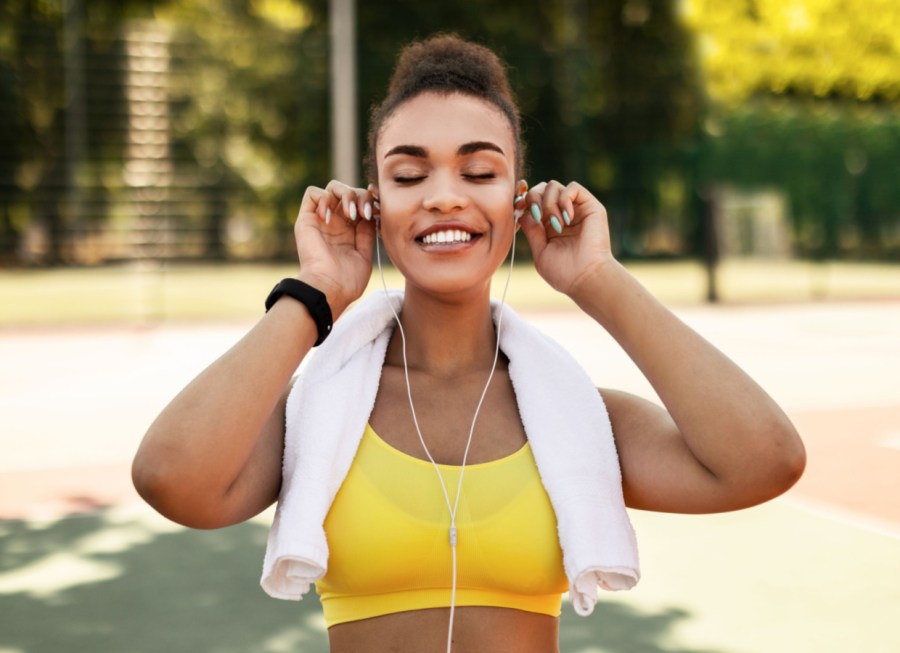 Despite being a vital part of our fit kit, the best workout sports bras have traditionally stayed under wraps – until now, that is. Innovations in design, fabrics and styling mean our BFF's (breast fitness friends) have never looked or felt so good, meaning more of us are willing to ditch those layers and flaunt our sports bras for the world to see – just like England Lioness Chloe Kelly when she flashed her sports bra during her iconic goal-scoring celebration in the Euro 2022 final!
Be sure to also check out our guide to the best D+ sports bras for big boobs
But wearing one of the best sports bras for workouts isn't just about looking and feeling great. Their main function, of course, is to protect your breast assets from any damage and pain that can happen when you're moving, whether that's walking, holding a Pilates pose, or working up a serious sweat in a dance, HIIT or spinning class.
Not sure which type of sports bra is best for you? Read on to discover our tried-and-tested favourites and learn why wearing one of the best workout sports bras is key if you want to maximise your exercise sessions and enjoy your time spent playing sports. However, if running makes up a major part of your training regime, check out our best running sports bra guide here.
Why is it so important that I wear a sports bra during workouts?
Call it a design flaw, but our breasts don't come with enough in-built support to let us jump up and down in complete comfort. The Cooper's ligaments, which give structure to our breasts, have their work cut out in a HIIT class.
In fact, according to research from the University of Portsmouth's Research Group in Breast Health, our boobs move an average of 10cm in several directions during higher-impact activities. That's why a supportive sports bra is a must to help you avoid breast pain and keep the tissue healthy.
Check out our guide to the best running shoes for women
Do I need to wear a sports bra for low-impact activities like walking?
'Don't assume that if you're moving at lower speeds, your breast movement is less than when you're moving at higher speeds,' says Joanna Wakefield-Scurr, professor of biomechanics and head of the Research Group in Breast Health. 'Power walking or jogging, or something with a lot of up and down movement, can actually produce more breast movement than running really fast.'
So, unless you're heading for a low-impact class such as yoga or Pilates, or doing a weights or stretch session, it's safest to go big on support.
'I'd recommend an encapsulation bra [one that separates the breasts into separate cups] or one with a mixture of compression and encapsulation,' she says. 'These offer more support than pure compression versions [think crop-tops that hold the breasts against your chest], which must stretch over your shoulders when you put them on.'
How do I know if a sports bra fits correctly?
First off, you should never assume you're always the same cup or band size. 'Make sure you understand the cross-grade system,' says Wakefield-Scurr. 'If, for example, a size 34D in the bra you try fits in the cup but the underband's too big, go for a 32 band, but up the cup to an E. This will give you the same amount of material for the cup as the D did, as the band is now smaller.'
Find one cup fits better than the other? 'If you're one of the 97 per cent of women who have one breast larger than the other, try shortening the strap more on the smaller side if there's less than a cup size in difference. For bigger differences, look for companies that offer bras with adjustable cups,' adds Wakefield-Scurr.
Check out our guide to the best reflective running gear for women
What should I look for in a sports bra?
The University of Portsmouth's research group suggests a few more things you should consider:
Underband: the underband gives 80 per cent of the support and should fit firmly but not affect your breathing or make flesh bulge over it. If it rides up at the back, it's too big.
Shoulder straps: these should give support without being so tight they dig into the skin.
Underwear: if there's an underwire, it shouldn't press into soft breast tissue. And with encapsulation bras, the centre part should sit on your breastbone. If it gapes away from your chest, go for a bigger cup size.
So, when you think you've found a comfy bra where the cups, underband and straps fit well, it's time to do the ultimate test to see how much jiggle you'll get. 'Look in the mirror as you do star jumps!' says Wakefield-Scurr.
6 of the best workout sports bras in 2023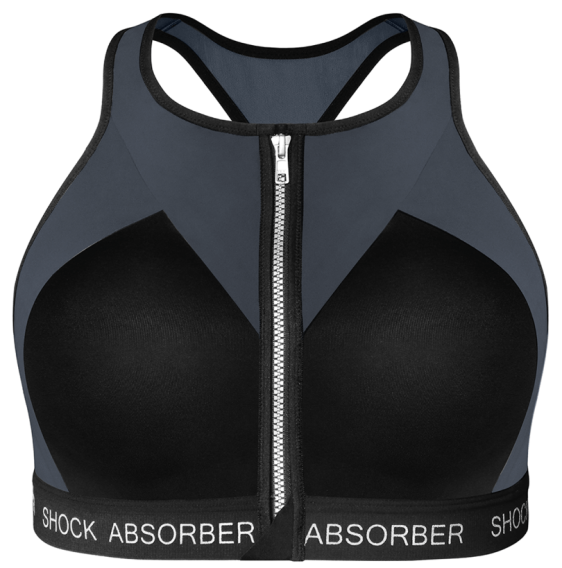 We check 1,000s of prices on 1,000s of retailers to get you the lowest new price we can find. Women's Fitness may get a commission from these offers. Read more here.
Style: Hybrid compression/encapsulation
Cup sizes: A to F
Reason to buy: A maximum coverage bra that keeps even big boobs in place
A great combo of top-notch support and freedom of movement for the shoulders – thanks to the slim, Y-shaped, adjustable back strap – makes this good-looking bra a workout must-have. It comes up high at the front to preserve your modesty while you lower for that deadlift, while the structured shape, loads of compression and wide, adjustable underband give this hybrid encapsulation/compression bra impressive support for high-impact activities, too.
The zip front means it's easy to take on and off and the breathable moulded cups also give it a bit of shape, while the bra's material helps keep sweat under control. While next-of-skin-comfort isn't quite as good as some bras, its performance is what serious gym goers are looking for.
Style: Compression crop top
Cup sizes: UK size 2 to 14
Reason to buy: Great for those with smaller frames who do low-impact activities
This stylish bra top from iconic yoga brand Lululemon combines superior coverage with a flatteringly feminine look and fantastic next-to-skin comfort. A great option for those who do the rounds of the gym floor, lower-impact classes like yoga and even spin sessions, the racerback style plus Lycra-containing fabric allows for a large range of movement.
Designed for training, the really wide underband gives great support for small to medium boobs as you lift, although it can be a bit tricky to get on and off at times. The highly breathable Everlux fabric wicks moisture impressively and the (non-adjustable) bra comes with optional, removable cups.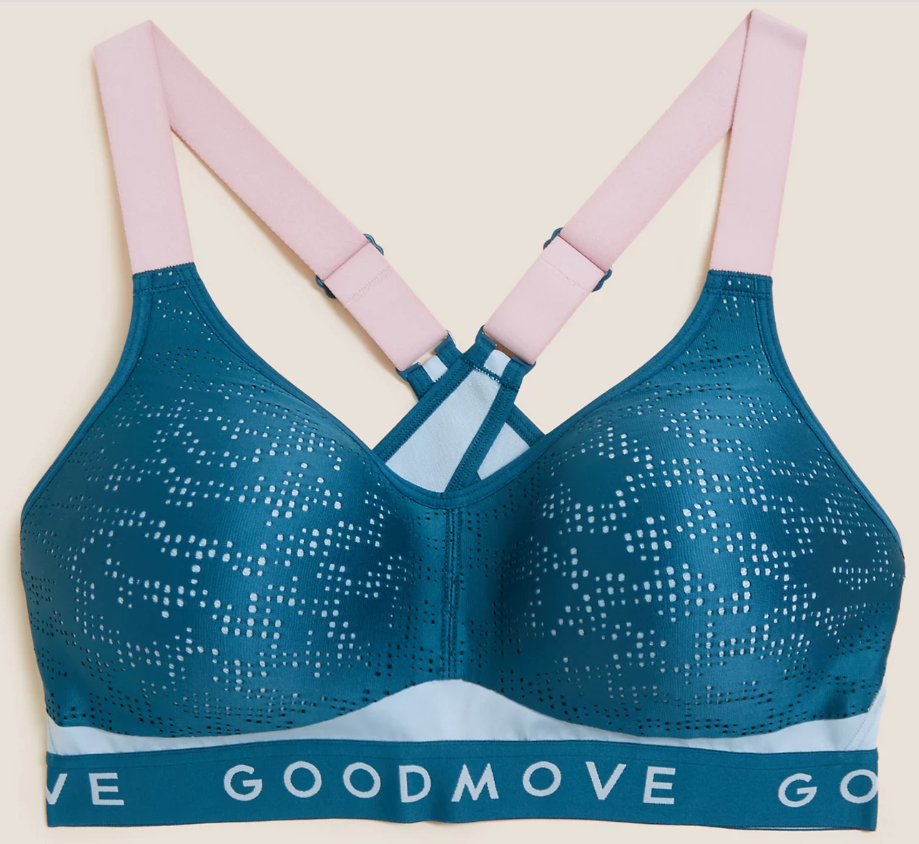 BUY IT NOW:
£25 / marksandspencer.com
Style: Encapsulation
Cup sizes: A to E
Reason to buy: A stylish high-impact sports bra for those on a budget
High Street giants M&S have updated this popular sports bra from their Freedom to Move range with a new and improved fit. Designed to support you through the toughest high-impact workouts, including dancing and circuit training, this full-cup style features non-wired, padded cups for flattering shaping, while the generously wide underband helps keep the bra firmly in place.
Considering its bargain price, it's a mightily attractive sports bra that's also highly breathable, thanks to the Cool Comfort technology which draws moisture away from the skin. The fixed racer-back style allows total freedom of movement, while the wide, adjustable, 'anti-slip' straps let you tailor your fit. Overall, it's a good allrounder that's very comfy and not hard to get into.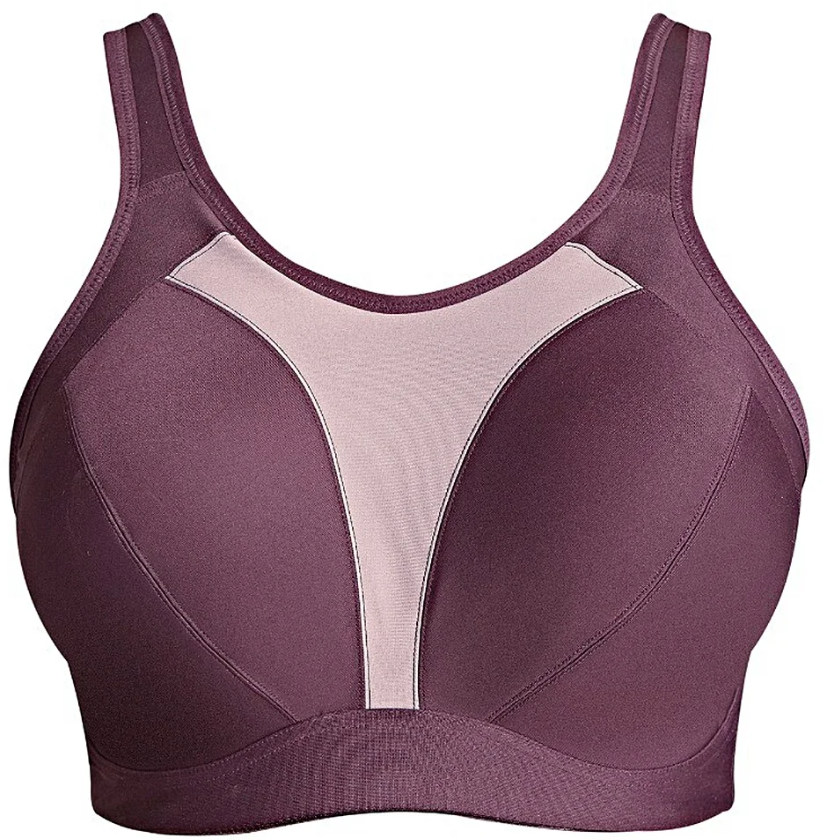 BUY IT NOW:
£45 / royce-lingerie.co.uk
Style: Hybrid encapsulation/compression
Cup sizes: G to K
Reason to buy: Perfect for very large-busted women who don't like wired bras
Women with very large busts usually rely on scaffolding to keep their bosom in check for anything springier than a power walk. Not anymore. Royce Lingerie's Aerocool Bra is the UK's first wire-free, high-impact sports bra for G-K cup sizes with internal side slings, a wide underband and a high neckline to restrict vertical and horizontal bounce without the use of underwire – perfect for tackling a set of burpees!
The optional racer back on this sleek and sophisticated design helps anchor the bra closer to the chest for additional support, while the lightweight, moisture-wicking fabric will leave you feeling cooler and more comfortable, so sweaty underboob will be a thing of the past!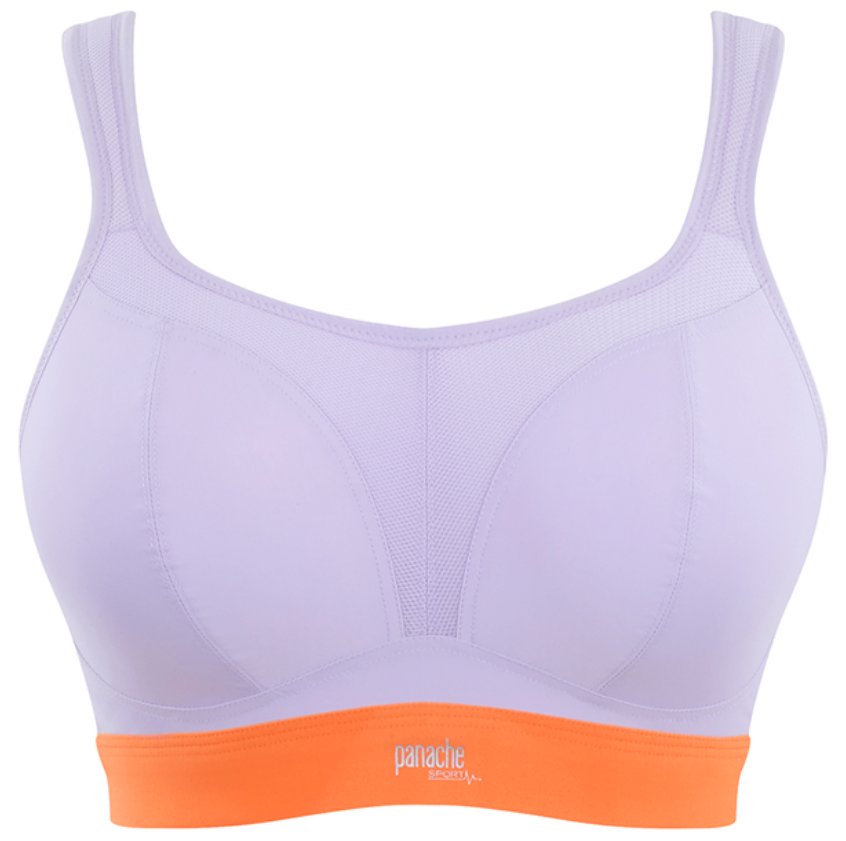 BUY IT NOW:
£40 / amazon.co.uk
Panache Women's Non-Wired Sports Bra, Ballerina, 38B

We check 1,000s of prices on 1,000s of retailers to get you the lowest new price we can find. Women's Fitness may get a commission from these offers. Read more here.
Style: Encapsulation
Cup sizes: C to J
Reason to buy: A super-comfy sports bra that gives great shape to all boobs
If incredible comfort matters, you'll adore this sports bra from Panache, which has individual inner cups that are seamlessly moulded into the band that sits under the bust (a feat of engineering in our opinion) that fully encapsulating each breast to lift, support and separate.
The fact this bra manages to do all this without resorting to underwiring or bulky, itchy seams is incredible, and provides amazing shape to small and large busts. The wide cushioned straps are a lovely bonus that help to take the weight off you're your shoulders and disperse pressure. Available in a wide range of neutral and bold colours, plus regular limited-edition prints, it can also be adapted to a racerback style.
BUY IT NOW:
£45 / wit-fitness.com
Style: Hybrid encapsulation/compression
Cup sizes: XS to L
Reason to buy: A high performance sports bra that mixes style with function
This light-support Asymmetric Bra comes from CrossFit superstar Sara Sigmundsdottir's third collection with WIT Fitness, and it has all the performance and function features you'd expect from someone who is constantly climbing robes, lifting weights and doing handstand crawls. That said, it also packs a stylish punch, because you can wear all three straps or remove some to suit your mood.
Made from premium sweat-wicking and supportive fabric, the bra also features a hybrid lining system with spacer and power mesh fabrics to keep your boobs in place and prevent them from squishing together as some compression bras can do. Perfect for weight training, gym workouts, and gentl